Health Benefits of Spicy Chili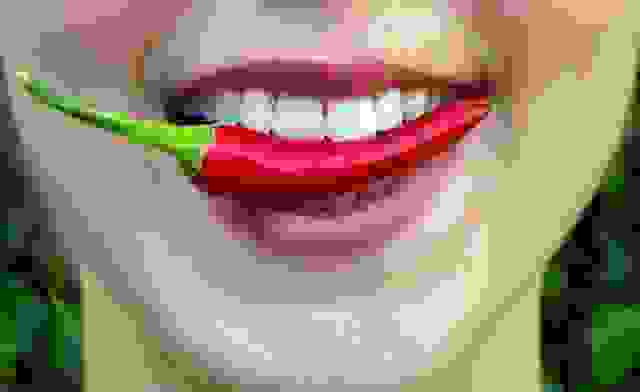 Several extensive studies published between 2013 and 2019 show that regular consumption of chili pepper may reduce the risk of death caused by cardiovascular diseases (CVDs). CVDs are disorders that affect the heart and blood vessels.
CVD - The Number One Killer. According to the World Health Organization (WHO), cardiovascular diseases (CVDs) cause 17.9 million deaths per year, ranked number one cause of premature death. In 2016, CDVs were the cause of 31% of all premature deaths, and 85% of these were heart attacks or strokes.
The latest study followed 22,811 Italians' diet and the way of life over eight years. This study shows that the risk of death caused by cardiovascular disease was lower up to 40% for individuals who ate chili more than four times a week. The risk of dying due to complications of bleeding or obstructed blood flow in the brain was reduced by more than 50%.
The preventive effect was lowest for those who didn't have high blood pressure. Interestingly, the effects were not dependent on the diet in general.
The hotter, the better. According to the Italian study, mild or not at all hot chili peppers had no favorable effects.
The US study involving 16,179 participants, found that chili eaters had 12% less risk of dying prematurely compared to those who did not. The period of this study over 19 years.
The Chinese study published in 2015, observed 487,375 participants for seven years, found that people who consumed spicy food daily reduced the risk of premature death by 14% compared to the ones eating hot food less than once a week.
Hot Chili peppers seem to have many beneficial effects. Also, the 2013 study of mice models suggests reduced non-alcoholic fatty liver disease.
These studies show a correlation between the mortality of chili lovers and chili despisers. The keyword here is 'correlation.' We need to be careful to draw any definite conclusions. Although these studies comprise several thousands of people, studies like this cannot unambiguously show causation. That is the cause and effect relationship.
Spicy foods as a sexual stimulant
For a long time, people have believed hot food to be a sexual stimulant. Capsaicin is the ingredient in peppers that is responsible for the spiciness. The molecular mechanisms causing reduced mortality are not known, but capsaicin, among others, stimulates the interesting molecule endothelial nitric oxide synthase (eNOS). Sildenafil, which is an ingredient in Viagra, also stimulates eNOS production.
You can read more details on chili peppers, nutrition facts and other health effects at https://www.healthline.com/nutrition/foods/chili-peppers.
- - -
You may also be interested in the following
Career Outlook: Data and Bioinformatics Scientists (2018-26)
Degree vs. Skills: Impact on salary
Bioinformatics and data science vacancies
Please, send
comments and suggestions
. Suggest for example a topic you would like to see or any improvements in the content. We will not spam you with emails!
References
Bonaccio M, Di Castelnuovo A, Costanzo S, Ruggiero E, De Curtis A, Persichillo M, Tabolacci C, Facchiano F, Cerletti C, Donati MB, de Gaetano G, Iacoviello L, Moli-sani Study Investigators (2019). "Chili Pepper Consumption and Mortality in Italian Adults." J Am Coll Cardiol. 2019 Dec 24;74(25):3139-3149. doi: 10.1016/j.jacc.2019.09.068.
Lv J, Qi L, Yu C, Yang L, Guo Y, Chen Y, Bian Z, Sun D, Du J, Ge P, Tang Z, Hou W, Li Y, Chen J, Chen Z, Li L (2015). "Consumption of spicy foods and total and cause specific mortality: population based cohort study." BMJ. 2015 Aug 4;351:h3942. doi: 10.1136/bmj.h3942.
Chopan M, Littenberg B (2017). "The Association of Hot Red Chili Pepper Consumption and Mortality: A Large Population-Based Cohort Study." PLoS One. 2017 Jan 9;12(1):e0169876. doi: 10.1371/journal.pone.0169876. eCollection 2017.
McCarty MF, DiNicolantonio JJ, O'Keefe JH (2015). "Capsaicin may have important potential for promoting vascular and metabolic health." Open Heart. 2015 Jun 17;2(1):e000262. doi: 10.1136/openhrt-2015-000262. eCollection 2015.
Jing Sun, Yunfei Pu, Peijian Wang, Sijiao Chen, Yu Zhao, Chan Liu, Qianhui Shang, Zhiming Zhu, Daoyan Liu (2013). "TRPV1-mediated UCP2 upregulation ameliorates hyperglycemia-induced endothelial dysfunction." Pflugers Arch. 2013 Sep;465(9):1303-16. doi: 10.1007/s00424-013-1274-4. Epub 2013 Apr 21.
Li Q, Li L, Wang F, Chen J, Zhao Y, Wang P, Nilius B, Liu D, Zhu Z (2013). "Dietary capsaicin prevents nonalcoholic fatty liver disease through transient receptor potential vanilloid 1-mediated peroxisome proliferator-activated receptor δ activation." Pflugers Arch. 2013 Sep;465(9):1303-16. doi: 10.1007/s00424-013-1274-4. Epub 2013 Apr 21.
Musicki B, Bivalacqua TJ, Champion HC, Burnett AL (2014). "Sildenafil promotes eNOS activation and inhibits NADPH oxidase in the transgenic sickle cell mouse penis." J Sex Med. 2014 Feb;11(2):424-30. doi: 10.1111/jsm.12391. Epub 2013 Nov 20.
Gregory A. Roth, et al. (2017). "Global, Regional, and National Burden of Cardiovascular Diseases for 10 Causes, 1990 to 2015." J Am Coll Cardiol. 2017 Jul 4; 70(1): 1–25. doi: 10.1016/j.jacc.2017.04.052.